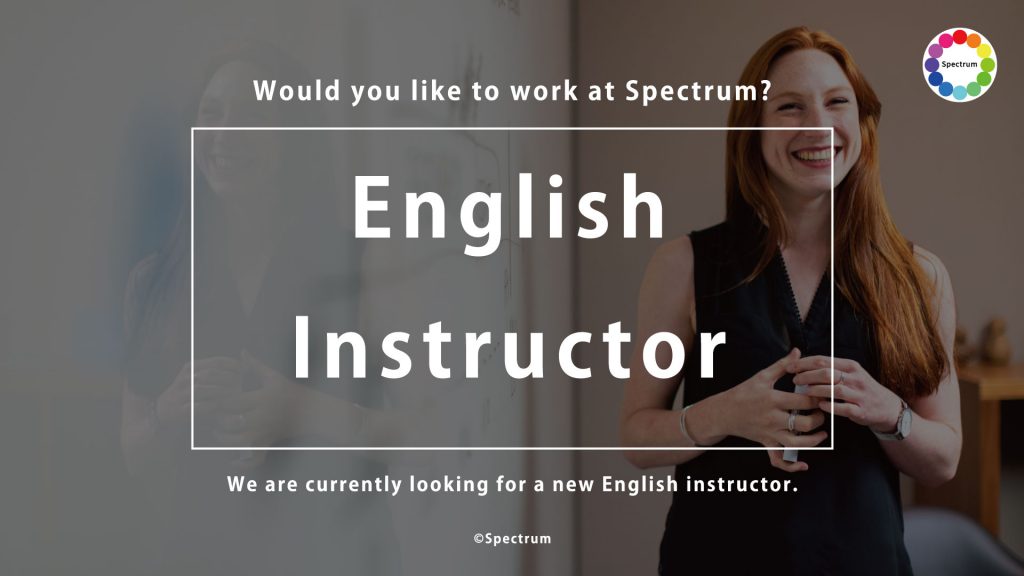 Would you like to work at Spectrum?
We are currently looking for a new English instructor.
We are searching for an English teacher who can work well with Elementary school age students as well as support, manage and take care of the students during the after school program.
We are looking for applicants who have a passion to teach children, have an enthusiastic and energetic approach in teaching while ensuring children's safety in the classroom.
Work Responsibilities
Work Responsibilities
・Teach English to elementary age children
・Engage studentsin activities and play strictly implementing in English
・Supervise and support students while keeping them safe at all times
・Mantaining an environment that is clean, organized and safe for all the students.
・Have a great creativity in making unique programs and lesson plans
・Highly adaptable and flexible teaching wise
・Help create any necessary teaching materials, documents, etc.
・Help to plan, organize and execute school events

Required Ability
・Be able to teach English
・(For Non-Japanese Applicants) N2 or N3 level of Japanese ability
(ideally someone who speaks conversational Japanese fluently or with near-fluency)
・Be warm and nurturing with children
・Be customer service oriented and professional
・Be mentally and physically capable of caring group of children alone in the classroom.

Required Qualifications
・one year or more of English teaching experience
・one year or more of work experience at a school or prep-school company

Type of Occupation
・English Instructor and Afterschool care staff(Both Non-Japanese・Japanese applicants are welcome)
Type of Employment
Part time
Work location
Spectrum After School Office
Sorute Takasaki East Building 1 Room 103
Higashi-Machi 126-12, Takasaki-shi, Gunma Prefecture

Working Hours
to be determined
Salary
Part time
¥1,200〜/hour(First 2~3 months ¥1,000〜/hour)
※Salary will discussed depends on work performance

Traveling Expenses
Public transportation costs will be covered / Private vehicle: set expense limit to be determined by the company
Visa Sponsorship
Yes
Holidays
Public holiday, Paid holiday, Obon and winter holiday
Application Form
For those who wish to apply, please fill out the application form below.
Afterwards our company will contact you with further details.
※※Please use a computer mail address (not a cellphone).
Application Form:
※Please fill out the application form on your own. (In accordance with Japanese law.)
Contact Information
TEL: 090-6482-1313 (Operation hours: weekdays 12~7PM)
MAIL: globalschool@spectrum-gunma.com
Person in charge: Ms. Aikyo