"Nohohon Irodori Trip" along the Ryomo Line adorned in traditional Japanese Kimono!
A Relaxing Weekend Getaway
Midori City is a town blessed with nature and a nostalgic townscape that will soothe your soul.
Why not sit back and enjoy the swaying of the trolley train on this Hop On Hop Off trip?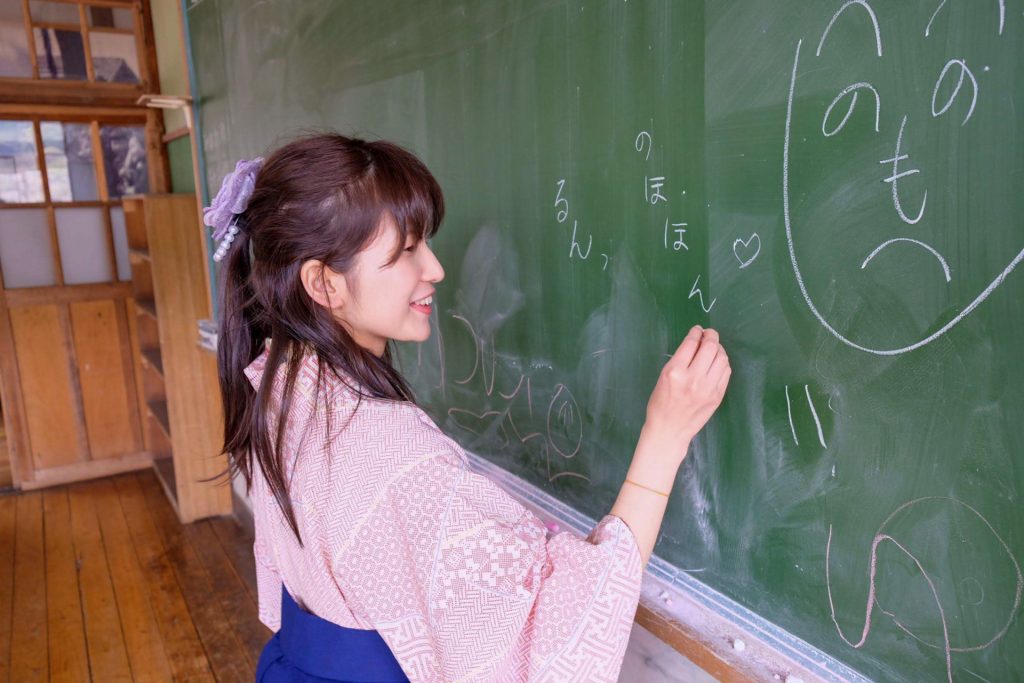 First, start with ohanami (flower viewing) in Midori City's Azumacho. The best time to see the flowering peach trees is in mid-April. Midori City's most prominent ohanami spot is called Hanamomo Kaido (Flowering Peach Road) where more than 1,000 flowering peach trees (weeping peach) span an area approximately 2 kilometers wide.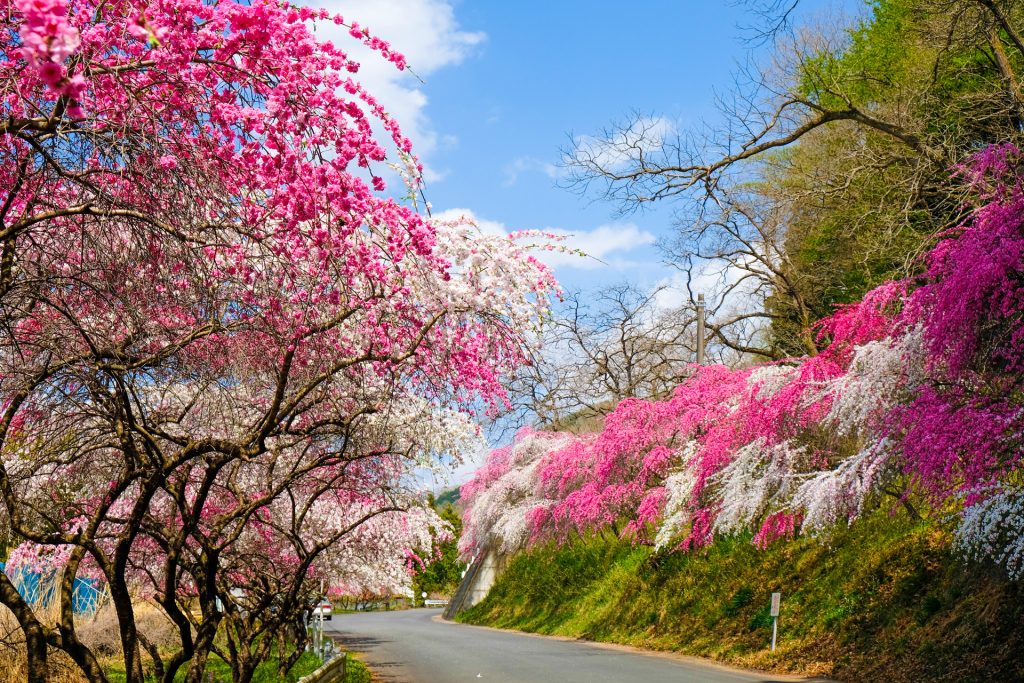 A free shuttle bus is provided from Hanawa Station (Watarase Keikoku Railway) to Sayado – Ohata Hanamomo Matsuri (festival) which is held when the flowering peach trees are in bloom.
We recommend using public transportation such as Watarase Keikoku Railway and the shuttle bus during the festival period as the vicinity near the main road will be very crowded.
Drivers can find free parking located at Hanawa Station, Midori City Hall Azuma Branch, and along Hanamomo Kaido.
Midori City's Azumacho is striving to plant 10,000 flowering peach trees by 2025. More than ever, we are looking forward to becoming a famous spot for flowering peach trees.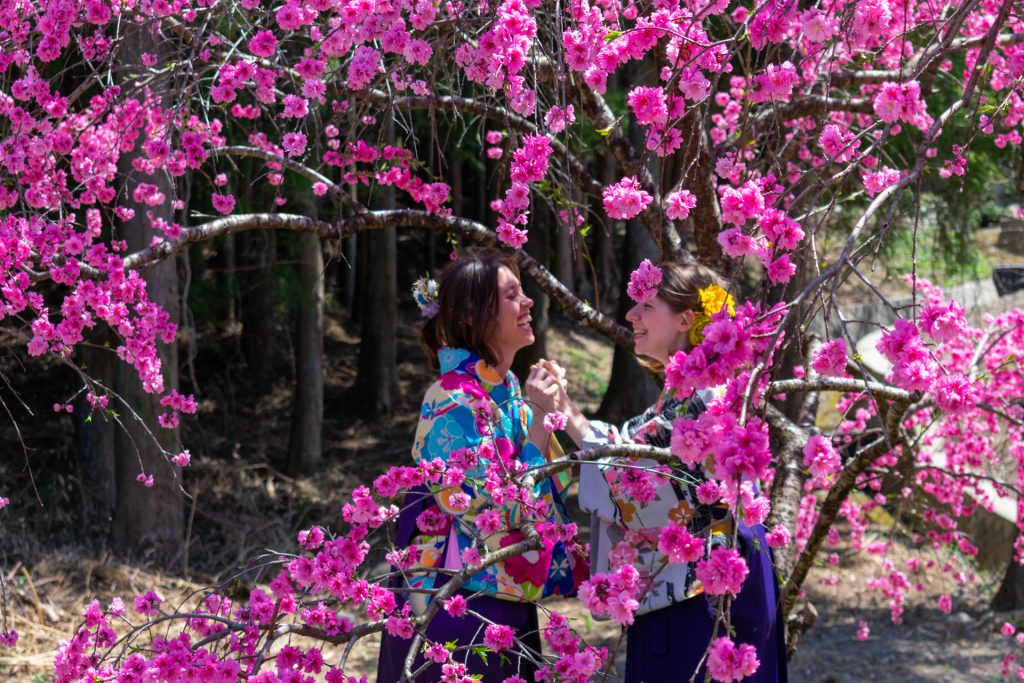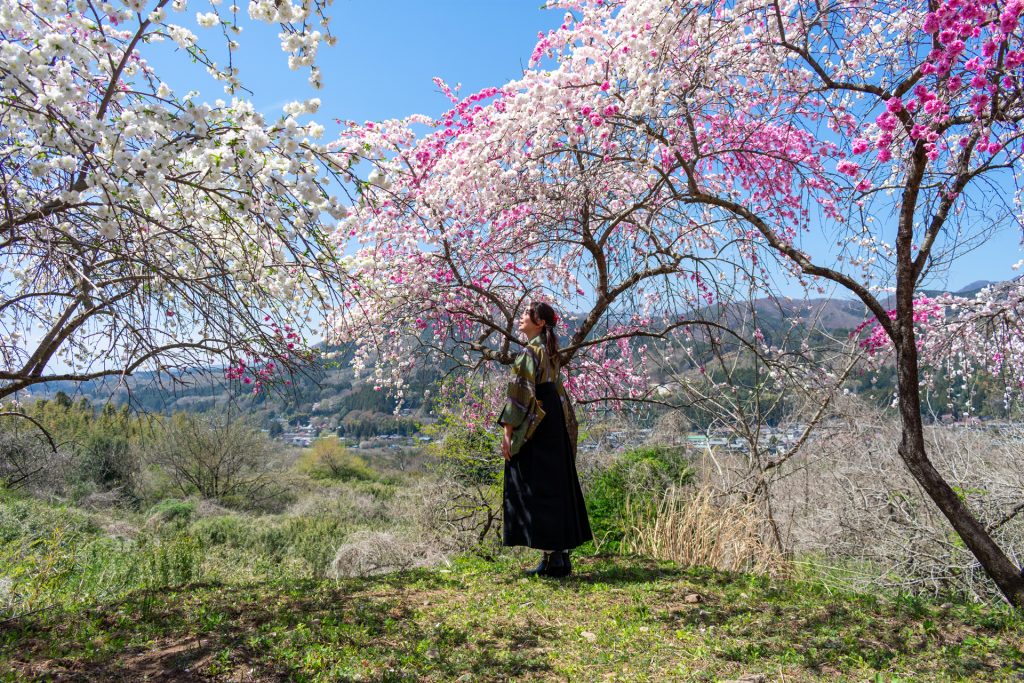 Sayado – Ohata Hanamomo Kaido Walk
Best Season: Usually mid to end of April
Access 1: A 15 min walk from Hanawa Station (Watarase Keikoku Railway)
Access 2: Approximately 35 min by car from Ota Yabuzuka Interchange (free parking available)
*During Sayado – Ohata Hanamomo Matsuri there is a free shuttle bus from Hanawa Station.
Please take time to stop by the Former Hanawa Elementary School Memorial Museum when you come to Hanawa Station. In the wooden school building, designed in the style of the Showa Period (mid 1900s), approximately a 5 min walk from the station, you can feel refreshed in the warm atmosphere of the building.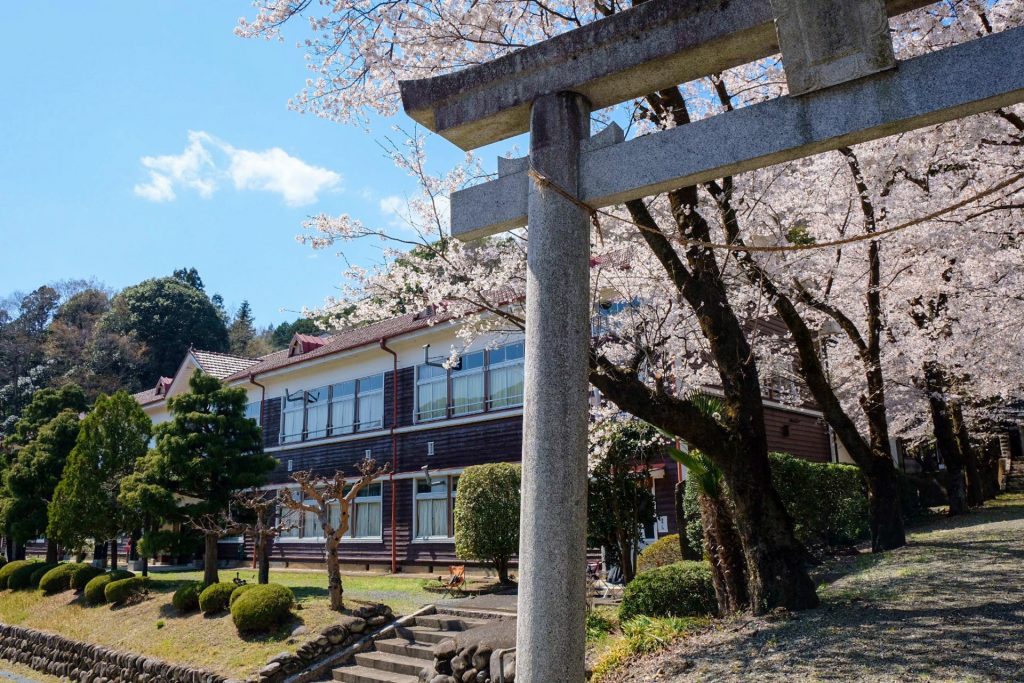 Mr. Kaichiro Imaizumi, said to be the "father of modern industry", and Mr. Wasaburo Ishihara, the lyricist of the nursery rhyme 'The Tortoise and the Hare', were both students at this school. You can find many documents pertaining to both of them on display. It is popular even amongst foreign visitors because of its nostalgic atmosphere and outstanding location. As the museum is free, and there's even a resting room, we recommend stopping in to put your feet up for a while.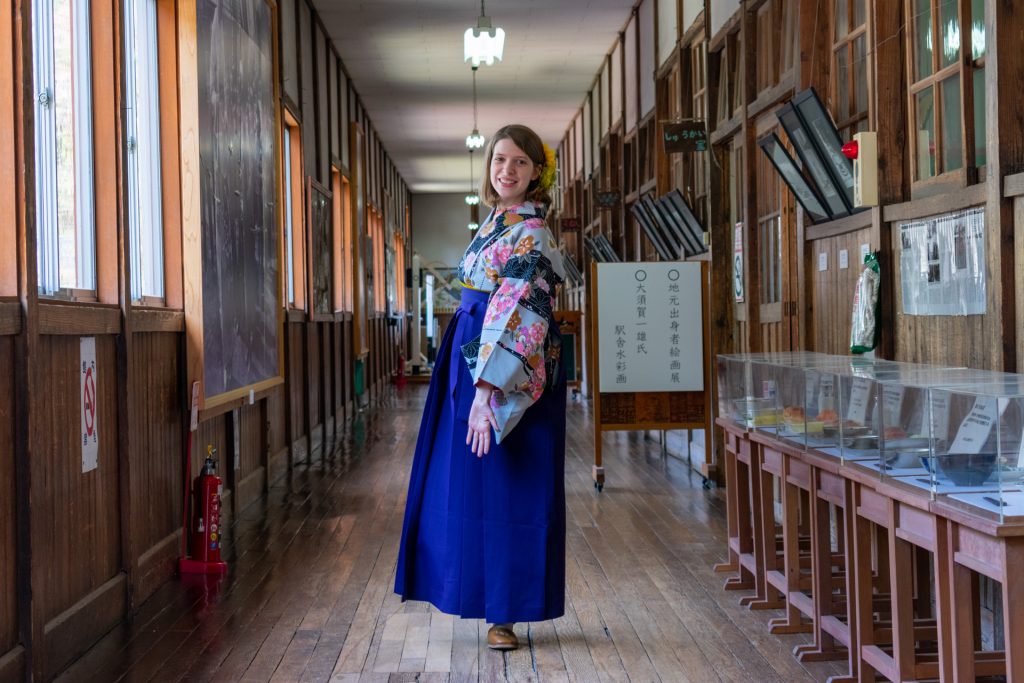 Former Hanawa Elementary School Memorial Museum Tour
Open: Saturday and Sunday
Opening Times: 10am – 4pm
Admission Fee: Free
Access 1: A 5 min walk from Hanawa Station (Watarase Keikoku Railway)
Access 2: Approximately 35 min by car from Ota Yabuzuka Interchange (free parking available)
Make sure you stop by Okanao Saburo Shoten while walking around the town.
This well-established shop has been producing soy sauce for more than 200 years.
You can take a tour inside the warehouse and see how soy sauce is specially prepared in wooden barrels and naturally brewed. Why not take a tour inside their chilly warehouse and see how soy sauce is fermented?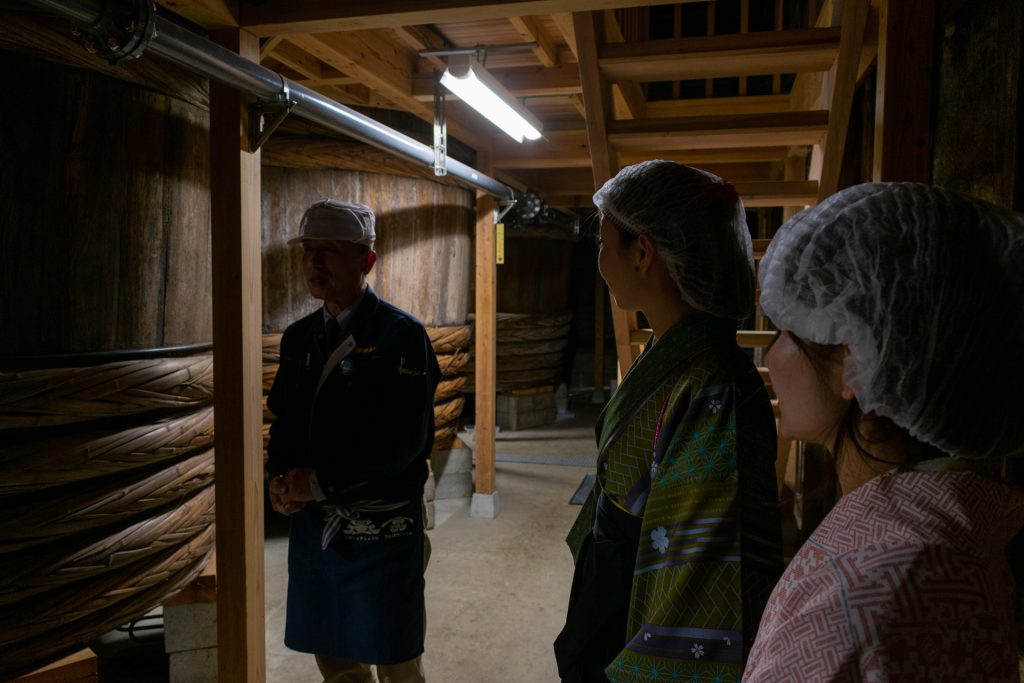 Once the tour is finished, the specialty 'soy sauce ice cream' will have you smacking your lips. Experience the subtle flavor of soy sauce with a refreshing aftertaste.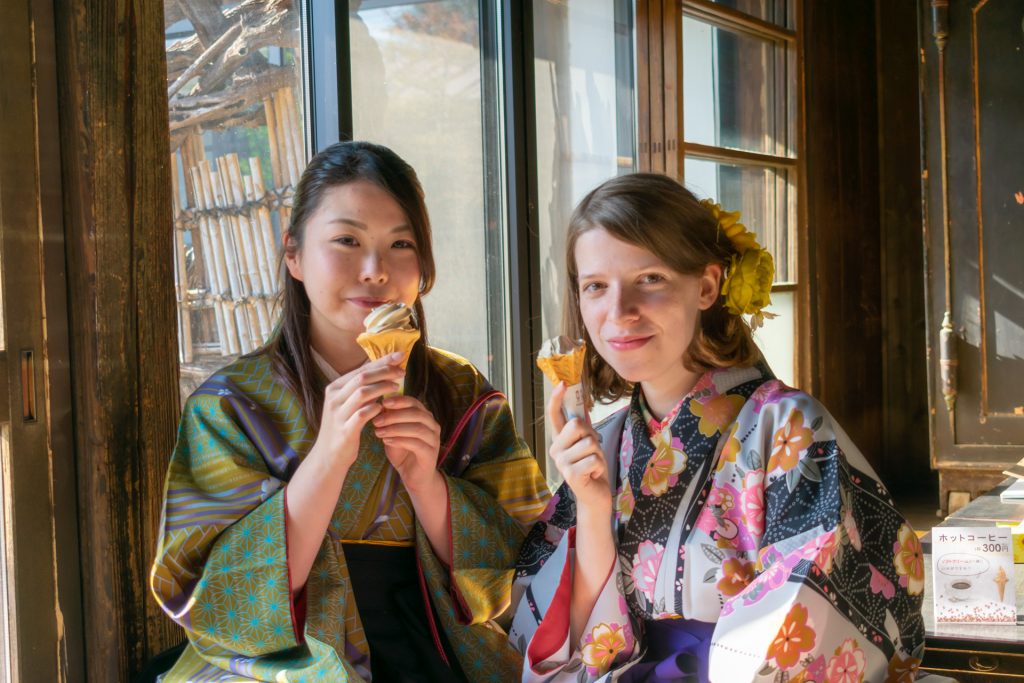 Inside the shop you'll find a wide selection of soy sauce merchandise. Find your favorite while sampling different products.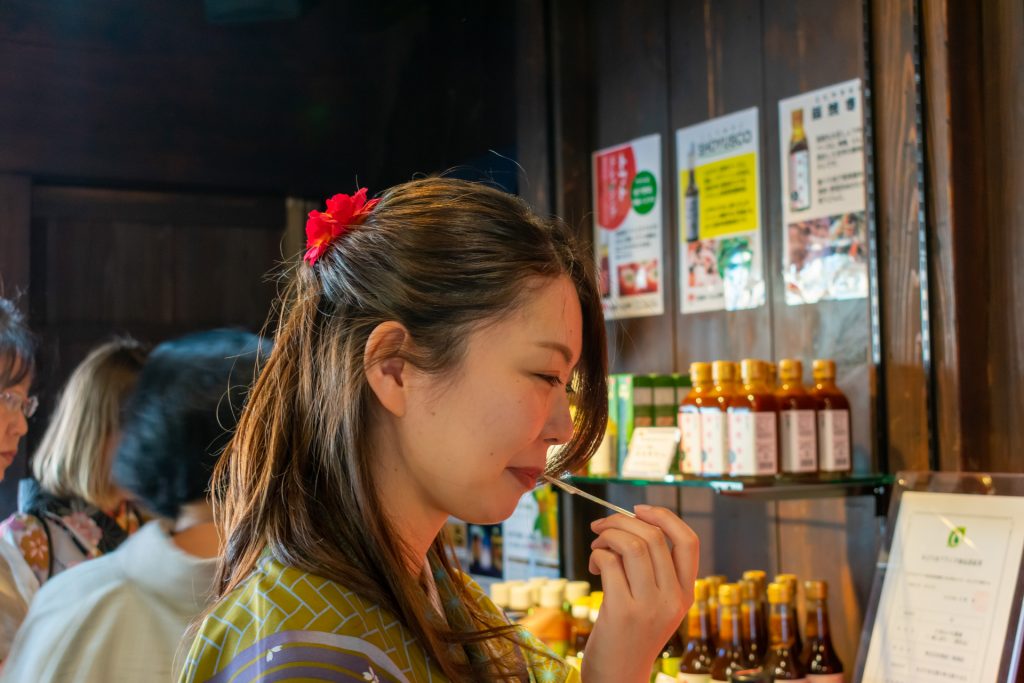 It's possible to have items shipped locally so you can buy in bulk then walk leisurely around town without having to worry about carrying loads of items.
Okanao Saburo Shoten's Soy Sauce Warehouse Tour
Business Hours: 9am – 5pm (open daily)
Tour Availability: 10am – 4pm (Tours are not conducted between 12 noon and 1pm)
Tour Fee: Free *(Please note that it might not be possible to conduct tours during preparation and busy times.)
Access: A 5 min walk from Omama Station (Watarase Keikoku Railway)
Enjoy nature and history while wandering around Omama Station and explore Keikoku Takatsudo Gorge, 'Nagame Yokyojo' Playhouse, and Omama Museum (Konodonto).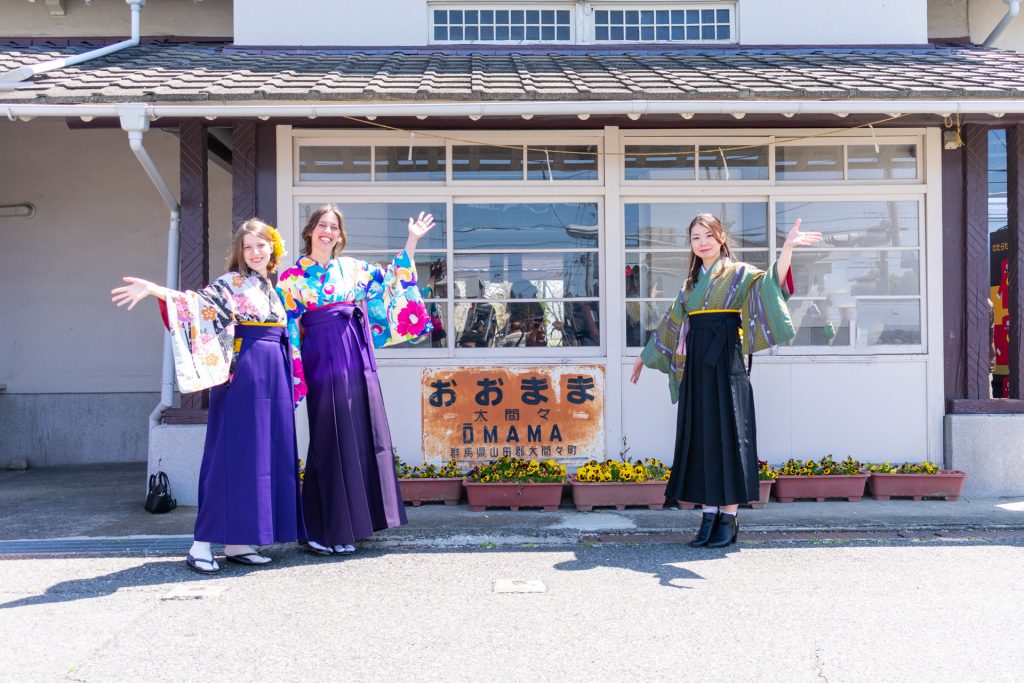 We recommend using the fixed route bus or the semi-private bus (reserve by phone) when you plan to walk around a wide area in Midori City. You can move around using a semi-private Noriai bus from your desired pick-up bus stop to your desired destination bus stop (Adults 300 yen/ride, Elementary school children and under 150 yen/ride). Reservations can be made by telephone up to 3 days in advance of your desired date of travel. There are also 3 train lines (Tobu Kiryu Line, JR Ryomo Line, and Jomo Electric Railway) within the city where you can connect to the Keikoku Railway. Both the Tobu Line and Jomo Electric Railway run through Akagi Station, and the Ryomo Line runs through neighboring Kiryu Station.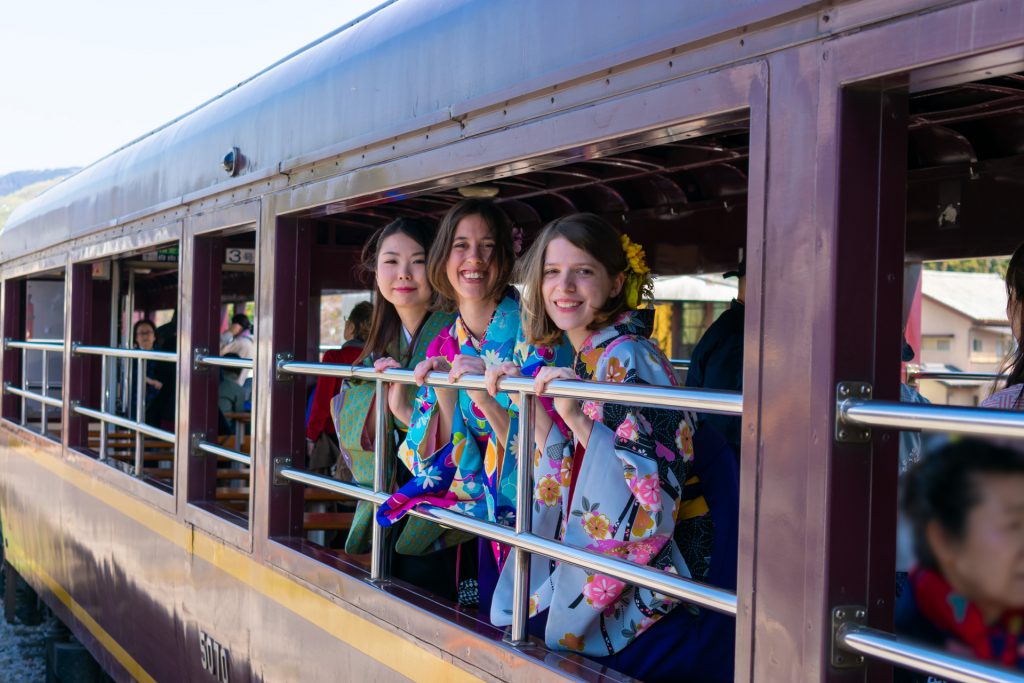 When you come to Midori City we hope you'll enjoy your trip with Watarase Keikoku Railway's Hop On Hop Off one day travel pass.
Midori City Access
By train
- Approximately 2 hours by limited express 'Ryomo' from Asakusa Station along the Tobu Isesaki Line
- Approximately 45 min from Takasaki Station along the JR Ryomo Line (Approximately 2 hours from Tokyo on the Joetsu – Hokuriku Bullet Train via Takasaki)
By car
- Approximately 30 min from Ota Yabuzuka Interchange (using National Highway 69)